Clinical Affiliates
The School of Nursing is in the process of establishing affiliation agreements with a variety of health care settings and organizations that deliver health and community services. Primary among these is the Lebanese American University Medical Center - Rizk Hospital (LAUMC-RH).
Lebanese American University Medical Center - Rizk Hospital
LAUMC-RH serves as the primary site for clinical education in hospital-based nursing. It is a four-building, 120-bed medical campus located in the heart of Beirut. LAUMC-RH was acquired by an LAU-affiliated corporate entity on June 30, 2009. The medical center currently offers a wide array of services, including:
General surgery
Specialized surgery (orthopedic, ophthalmic, gynecologic, urologic, vascular and thoracic, neurologic, and cardiac)
Obstetrics
Pediatrics
General medicine
Medical specialties in nephrology, oncology, gastroenterology and endocrinology
These services and more are offered in several general medical, surgical and pediatric units; the labor and delivery, newborn nursery, and neonatal intensive care units; the general, coronary care and cardiac surgery intensive care units; the operating room; as well as outpatient facilities for hemodialysis, one-day surgery, chemotherapy, and diagnostic procedures.
LAUMC-RH is undergoing restructuring and expansion to become a comprehensive university hospital with associated ambulatory clinics that will serve as the principal site for clinical teaching, research and practice for LAU's schools of Medicine, Nursing and Pharmacy. The expansion plans include the development of several centers of specialized care.
The Department of Nursing at LAUMC-RH employs approximately 250 nursing staff, including 150 professional registered nurses. Head nurses have operational responsibility for the clinical units. The department sponsors an active staff-development program for both registered and practical nurses.
Key positions in the hospital's Quality and Medical Assurance, Occupational Health and Safety, and Infection Control departments are also held by registered nurses. LAUMC-RH's website provides further details about the hospital.
Dal Al Ajaza Al Islamia
The hospital is one of the related institutions to Dar Al Ajaza Al Islamia Association since 1954. It is a charitable, not for profit human institution offering common medical care. It accepts all patients without any preference to region, religion or identity. the hospital includes four different specializations within its structure:
Neuro-Psychiatric hospital for the treatment of mental and nervous disorders.
Geriatric hospital for disabled and old-aged senile patients.
A palliative care unit for comatose patients.
Educational hospital for psychiatry residency program since 1998.
At present, there are 600 beds permanently occupied by patients.
American University of Beirut Medical Center
Since 1902, the American University of Beirut Medical Center has been the most trusted and respected healthcare provider in Lebanon and the region, handling more than 300,000 patient visits annually. AUBMC was the first medical institution in the region to have earned the three international accreditations of the Joint Commission International (JCI), Magnet (Magnet Recognition Program®, and the College of American Pathologists (CAP) attesting to its superior standards in patient-centered care, nursing, and pathology/laboratory service. AUB is building on its strong foundations in medical education and health care through the AUBMC 2020 Vision. In addition to improving facilities and capacity, the AUBMC 2020 Vision will establish centers of excellence that will provide new medical options for the treatment of illnesses endemic in the Arab world, and it will expand access to the quality of care that families in Lebanon have depended on for generations.
Launched in 2010, the AUBMC 2020 Vision is an ambitious and comprehensive initiative that affirms AUBMC's position as the leading medical center and healthcare institution in the region. The AUBMC 2020 Vision is transforming medical education, research and practice, and most importantly, medical care in the region, bringing them to new levels of excellence. It consists of major new medical (clinical and academic) facilities, the establishment of clinical and research centers of excellence, investment in state-of-the-art equipment, recruitment of talented physicians and nurses, and regional and international partnerships.
Bellevue Medical Center
Bellevue Medical Center is a university hospital accredited by the Joint Commission International (JCI), and offers a high standard facility for patients from Lebanon and the region.
Bellevue Medical Center operates with more than 170 beds and offers advanced general healthcare services in several specialties and departments. Patients at Bellevue Medical Center can feel confident to receive medical treatment from a highly skilled team of healthcare specialists, benefit from the high-quality health standards and access the most advanced diagnostic technologies.
Clemenceau Medical Center
Clemenceau Medical Center (CMC) is designed to offer patients the most innovative treatments and technologies available in the region, in a safe and compassionate environment. Our patients will be among the first to benefit from avant-garde treatments and technology since CMC is fully equipped with the most modern and advanced medical equipment, the first of its kind in the surrounding region.

The hospital, with 158 operating beds, provides all the essential health services required through a person's life time. Beyond the medical field, our patients enjoy first class-service, in a 5 star hotel ambiance with spacious furnished rooms, suites, and comfortable waiting areas…we provide the best environment to relax. Our patients have access to digital entertainment, including satellite TV and Internet access through modern LCD TV system.

Clemenceau Medical Center includes ICU/CCU beds, NICU beds, where patients are monitored in private rooms with the most advanced technology, with a one on one nurse ratio. CMC has also dedicated a specific ward for patients undergoing ambulatory and day surgeries. Full emergency room services and urgent care are also provided at the hospital.
Mount Lebanon Hospital
Founded in 1995 Mount Lebanon Hospital – Gharios Medical Center was built in response to a growing regional need for quality healthcare services and a founder's vision. The hospital offers the latest in medical technology, combined with the utmost concern and vision for patient care and comfort. A 250-bed hospital, with around 650 employees, provides physicians and patients with the latest in technological innovations in equipment and machinery designed for the diagnosis and treatment of the most acute clinical conditions. Mount Lebanon Hospital will always be on the lookout to acquire and utilize the latest innovations in the field of healthcare so that it will always support its objective on being "Committed to Excellence in Healthcare".
Keserwan Medical Center
Psychiatric Hospital of the Cross
Tel Chiha Hospital
Community Health Sites
The role of nurses in the community is vital. Community health nurses work under the auspices of a variety of health organizations and agencies. They provide care across the continuum, from health promotion and disease prevention, to clinical treatment, rehabilitation and palliative care. Community health nurses work holistically by including biomedical, psychosocial, behavioral and socio-environmental perspectives.
LAU's nursing students will have the opportunity to learn in community settings throughout Lebanon as the school becomes affiliated with various community organizations and NGOs.
Saint Antonios Dispensary
Howard Karagheuzian Association for Child Welfare in Lebanon
Byblos Municipality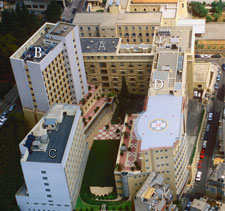 LAU Medical Center–Rizk Hospital, Beirut.